VISIONCHART PB1290 PORCELAIN WHITEBOARD 1200 X 900MM
Porcelain surface (or vitreous enamel) whiteboards are ideal for heavy duty use such as schools, higher education, conference centres and medical facilities. Concealed wall fittings. Long Life 25 year guarantee.
Magnetic Surface

Full length aluminium pentray

Standard aluminium frame with

Galvanised steel sheet backing

Magnetic Receptive
Dry wipe Surface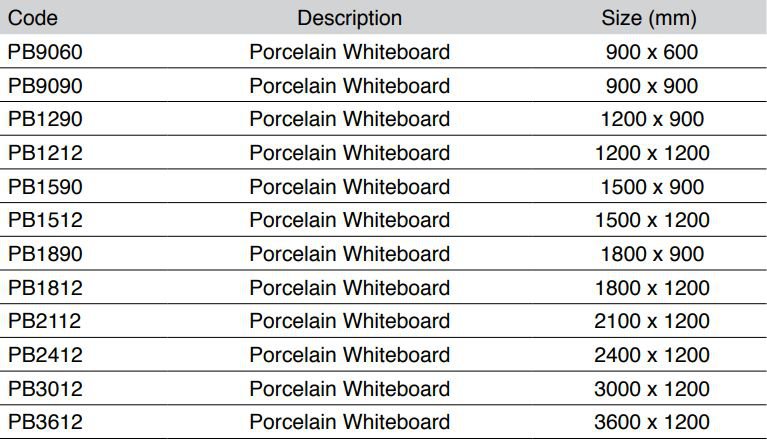 The Writings on the Wall
At VISIONCHART we offer an extensive range of writing surfaces for various applications from small offices to large corporate and educational facilities. There is a difference! Choosing the correct surface is important to fulfil your customers expectations. Porcelain (or vitreous enamel) surfaces are a white ceramic glass fused onto a steel substrate under extremely high temperatures. This offers a highly scratch resistant surface suitable for heavy writing uses. Projection Porcelain is different again—with the surface embedded with mica crystals to increase the gain for better viewing with projectors. It is a matte surface so erasing is wet rather than dry wipe.
Painted steel surfaces are comprised of multiple layers of painted steel with a white top coat baked under moderate oven temperatures. The surface can be scratched and is suitable for all moderate use applications. Glass writing surfaces are made from a tempering process that makes them up to 8 times stronger than standard glass. The glass cannot be cut after tempering. If broken, the glass shatters into small harmless pieces. The surface is extremely stain resistant. Hard laminates are offered as whiteboards now. Such surfaces in the past were generally offered as doors or benchtops. They have a plastic resin surface and the quality of erasing is very dependent on the quality and quantity of the resin layers applied.
CARE AND MAINTENANCE
All surfaces need to be cleaned on a regular basis. Ensure you use the correct dry erase marker rather than a permanent pen. Ensure that your eraser is clean. Our Magic Wipe cleaning cloth is an excellent environment friendly solution capable of removing difficult marks. If you have permanent writing or stubborn stains you can 'write over' them with a dry erase marker which will help to remove. Ghosting is the feint remains of writing and is not evidence of a faulty surface. Alcohol based cleaning fluids can be used for stubborn stains. Do not use abrasive cleaners. Leaving whiteboard marks on the surface for longer than 24 hours is not recommended as the longer they're left, the more difficult to erase because of various external effects from UV lights to air conditioning. Projection Porcelain is for 80% projection and 20% writing. Wet wipe of writing is recommended immediately after the presentation. Glass and Porcelain offer the best cleaning results.
About the Company - VISIONCHART
"WHEREVER PEOPLE MEET"
A leading manufacturer and trade only supplier of visual communication products. Innovative products with category leading marketing appeal. Offering our resellers, meaningful and successful customer engagement.
Visual Communication can enrich your organisation. From visual writing boards in ceramic or glass to planning boards and pinnable surfaces, they're all designed to make your work, education or meeting space empowered.
Imagine - Collaborate - Create
When you write your thoughts onto a board or pin them up ... it's transforming.